Leaf peeping is big business in America. Every fall, sometime around Columbus Day weekend, families and day-trippers take to New England roads in search of vibrant autumn colors- shocks of red sugar maple and yellow birch. Sleepy towns are alive with fall festivals and the smell of cider donuts. Little kids in fleece hoodies run through corn mazes and search pumpkin patches for the perfect Jack-O-Lantern. But what does the fall foliage look like in other countries? If you're planning a trip to Japan, where do you go to see the country's beautiful
kouyou
?
In and Around Tokyo
The best time to view fall foliage in Japan is from late-November to early-December. While many Tokyo residents flock to the countryside to enjoy
koyo
, there are many places in the city to indulge in an array of fall colors. Inokashira Park is the best leaf-peeping spot in Toyko. Maple, zelkova, and evergreens create a stunning orchestra of color. The park features a central pond and several pathways, making it an ideal place for a late afternoon walk. The park is also known for exceptionally good sunsets. Other places to enjoy the fall foliage in and around Tokyo include Memorial Park and Lake Kawaguchi.
In and Around Kyoto
It's said that the Japanese love fall foliage as much as they love the cherry blossoms, and Kyoto is a world-class leaf-peeping destination. Kyoto's ancient temples are the best places to see a myriad of fall colors. Tofuku-Ji Temple is carpeted with maples that turn a vibrant red November. The north side of the temple is spanned by three bridges, and combined with the Hojo Garden, the setting is as gorgeous as a painting by Hokusai. Located west of Kyoto City, you'll find Mount Arashi. It's one of the best places in Japan to see both the fall foliage and the cherry blossoms. The views from Togetsukyo Bridge are breathtaking. Other fall foliage destinations in and around Kyoto include the following:
Nanzen-Ji Temple
Honen-en Temple
Okochi-Sanso Villa
Ginkaku-Ji Temple
The mountain village of Takao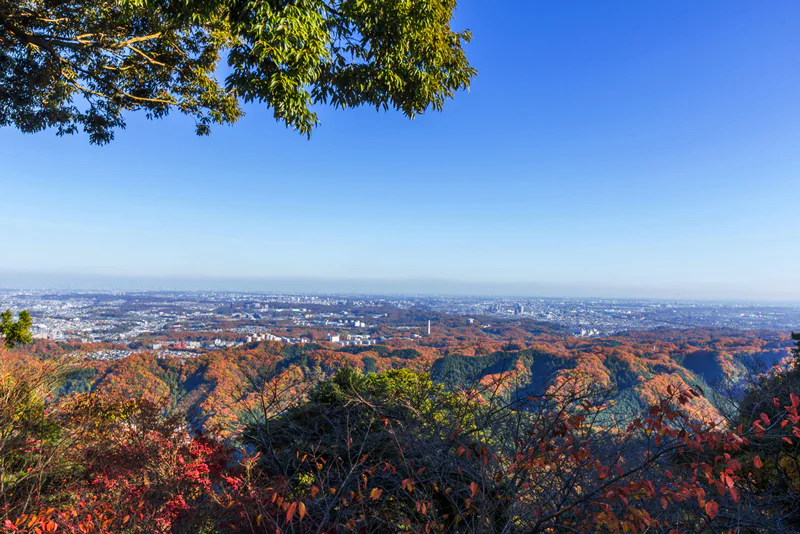 Takachiho Gorge (Miyazaki)
Sheer cliffs, waterfalls, and beautiful autumn colors… that is what you'll find at Takachiho Gorge, a narrow chasm cut by the Gokase River. If the gorge's volcanic columns look the scales of a dragon, then the fall foliage looks like orange and red fire. There are several pathways along the gorge. The centerpiece is the Minainotaki waterfall; it is 17 meters high, and in the autumn it cascades against a backdrop of bright, eye-popping colors. Whether you hike the trails or row a boat along the river, Takachiho Gorge is a must-see on your autumn Japan tour.
Kenroku Garden
Kenroku Garden is located in Kanazawa, Ishikawa. It is considered to be one of the Three Great Gardens of Japan, along with Kairaku-en and Koraku-en. The grounds are open all year, and admission is free. The garden features meticulously landscaped paths, stone lanterns, flower-viewing bridges, a tea house, and several fountains and ponds. While Kenroku Garden is beautiful all year round, it is particularly stunning in autumn.
Ready to see the foliage for yourself? Book your fall Japan vacation today:
Affordable World Tours of Japan